Non-Lubricated Three Stage PET Compressor
Non-Lubricated Three Stage PET Compressor
100 % Oil Free High Pressure Air Compressor Balanced Opposed, Double Acting, Watercooled, Three Stage Oil Free Compressor The Most Power Efficient Low Cost Solution specially design for PET Blowing.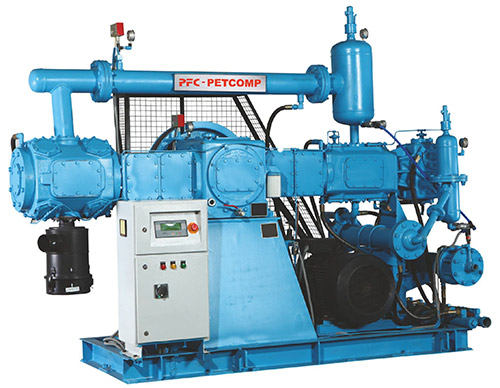 FEATURES
Combined 2nd & 3rd stage design eliminates sealing against 40 bar, 3rd stage piston rod packing assembly and few valves for 2nd & 3rd stage.
Low RPM & rugged cast iron design ideal for heavy duty continues 24x7 operating year after year.
Forged crank shaft & connecting rod, precision main & crank pin bearings with force feed lubrication have very high load bearing capacity & hardly needs replacements.
Two throw balance-opposed frame, design to minimize unbalanced forces.
Cylinders constructed with large cast in-water jackets & specially designed intercoolers for dimensional stability & better cooling under continues operation.
Distance Pieces feature two compartments ensuring the lubricant isolated from the cylinders.
All components constructed in accordance with international standards.
PFC PETCOMP package comes with built in single point water inlet / outlet connection and air outlet connection. It requires very little time and labour during installation
Double Acting Cylinder
Energy saving high efficient design.
Large casting-water jacket for better cooling.
Lubrication free cylinder with PTFE Piston rings guarantees 100% oil free compressed air.
Piston & Rider Ring
High efficient self lubricated PTFE piston ring, rider ring & piston rod packing rings
specifically developed for PET Compressor for longer duty cycle.

Valve Assembly
High efficient designed for annual one time maintenance.
Control Panel
Advanced micro processor based control system ensure trouble free operation, multi compressor control, online pressure, temperature & current display with built-in warning & shutdown function protect the compressor. It helps to plan maintenance intervention well in advance as it gives prior indications of service requirements.

In-Built Energy Saving Variable Frequency Drives (VFD)
Features
Smooth Start-Up

The VFD is soft starting which allows for controlled acceleration and deceleration this result in reduced stress on mechanical components and enhanced system reliability which extend the life of the the compressor.
Lower Cost of ownership
Energy is the single largest cost in owning in air compressor with variable speed operation you will experience significant savings on this cost over the entire life of your compressor.

VFD keeps desired line pressure constant, adjusting automatically according to system air consumption by varying motor speed, only consumes the energy needed to produce the compressed air required by the system, in fixed speed if a compressor operates on no load, energy is wasted while no work is performed. This saves up to 35% energy compared to conventional cycling.

A fixed speed compressor operates on a load-unload band of at least 10 PSI around the working pressure, whereas with VFD Compressor can be operated within a band of 2 PSI since the compressor is not operated under higher than working pressure requirements, there is substantial energy saving. For every 2 PSI reduction in operating pressure, there is 1% power saving.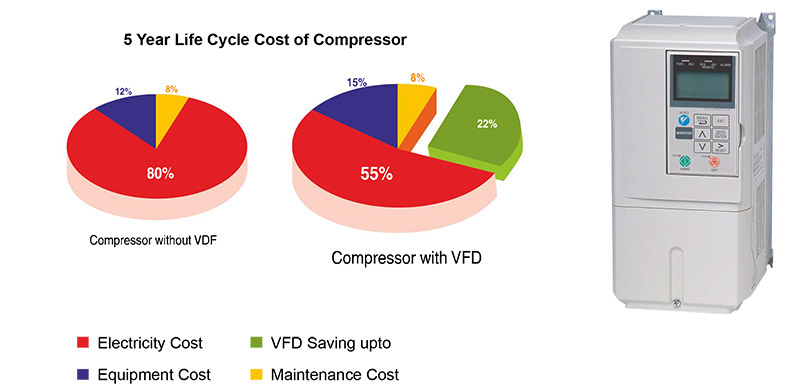 Compressor Model

Motor
KW / HP

Stage

FAD @ 35 KG/ cm2
cfm
Max. Working
Pressure
Dimension
L X W X H
(inches)
Weight
in Kgs.
PETCOMP-40
30 / 40
3
110
42
119 x 50 x 88
2500
PETCOMP-50
37 / 50
3
137
42
119 x 50 x88
2500
PETCOMP-60
45 / 60
3
165
42
119 x 67 x 79
3500
PETCOMP-75
55 / 75
3
195
42
119 x 67 x 79
3500
PETCOMP-100
75 / 100
3
236
42
160 x 74 x 105
–
PETCOMP-120
90 / 120
3
295
42
160 x 74 x 105
–
PETCOMP-150
110 / 150
3
354
42
160 x 74 x 105
–
PETCOMP-180
132 / 180
3
425
42
160 x 74 x 105
–
Since improvement are made from time to time, the illustration and specifications are subject to change without notice.

The standard package includes a compact skid mounted compressor, belt guard, electric motor, starter and control panel, after cooler, non return valve with optional air dryer, compressed air filter and air receiver. It is tested at 100% operating Pressure, It's ready to use. Just plug in to power supply.
No results
We couldn't find a match for these filters.
Please try another choose.