Non - Lubricated Two Stage 8 Bar Air Compressor
Non-Lubricated Two Stage 8 Bar Air Compressor
Air Compressor which is Non-Lubricated, Two Stage, 8 Bar, Double acting, Reciprocating, Horizontal Balanced opposed, heavy duty, water cooled, with force-feed lubrication to all bearings, Compressor sheave with fly wheel effect.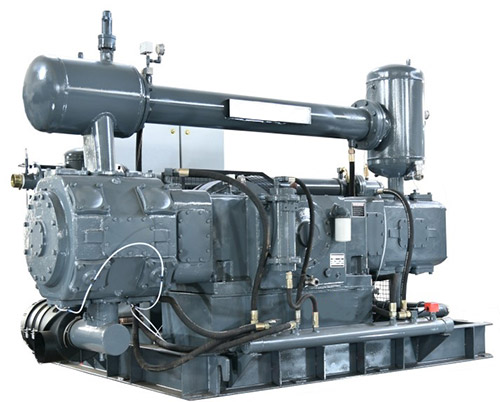 SCOPE OF SUPPLY
Dry type Suction Air filter with silencer.
V-belt Drive arrangement.
Water cooled Inter and After cooler with Air through tubes, removable tube bundle, Moisture separator with Auto Drain valve.
Single point inlet and outlet Cooling water piping for cylinder jackets, inter and after- coolers.
Non-Return valve at discharge air outlet connection.
Heavy duty steel deck for mounting the entire package with facility of lifting.
DRIVE MOTOR
CG make SF 1.0 Induction Motor, 4 pole, Squirrel cage, TEFC Cooling, F class insulation Suitable for 415V±, 50 Hz±, 3 Phase, AC electric supply.
PANEL
Schneider or ABB make Contactor.
LOW OIL PRESSURESWITCH
Low oil Pressure switch
Low cooling water flow switch
Motor overload and single phasing protection
Safety valve
High Temperature
High Discharge Air Pressure
Hooter
INTELLIGENT COMPRESSOR CONTROLLER
Advanced microprocessor based control system ensure trouble free operation and safety of compressor by displaying preventive maintenance indication and tripping the compressor. Controller controls and displays on line pressure, displays Automatic loading and unloading of compressor, Temperature, Total run hour with load on run hour, Amp of motor.
VARIABLE SPEED DRIVE
The VSD is soft starting which allows for controlled acceleration and deceleration this results in reduced stress on mechanical components and enhanced system reliability which extend the life of the compressor.

There is a significant saving with variable speed operation over the entire life of compressor. With the help of VSD compressors precisely control system pressure to ±2 psig using highly accurate sensors to control motor speed. This eliminates "overpressurizing" and increases energy savings - after all every 2 psig saved in overpressurizing reduces power consumption by 1%.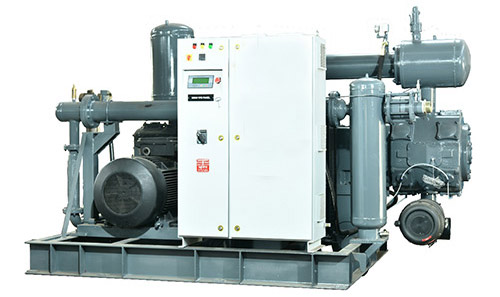 MODEL
MOTOR KW

MOTOR HP
(SF 1.0)

FAD @ 8bar
CFM (m3/min)
PFC-08-120
90
120
564 (15.9)
PFC-08-150
110
150
690 (19.5)
PFC-08-180
132
180
810 (22.9)
PFC-08-215
160
215
965 (27.3)
No results
We couldn't find a match for these filters.
Please try another choose.